Source : www.ccm.gov.mo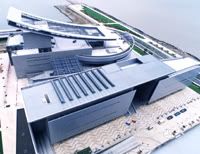 The Macao Cultural Centre marks a new era in the cultural history of Macao as it offers a number of unique venues for artistic events, conferences and exhibitions, increasing cultural interchange and helping to expand culture amongst the Macao population.
Thus, the Cultural Centre fulfils the cultural needs and improves the quality of life of the cosmopolitan population of Macao and the tourists . With a total area of 45,000 m², the centre includes a garden, a complex of two Auditoriums and an Art Museum. The complex of auditorium is composed of two venues: the Grand Auditorium, with capacity for 1,114 spectators and the Small Auditorium destined for small shows and cinema. Both auditoriums include simultaneous interpretation rooms and modern sound with the illumination systems. Besides, there are also conference rooms, exhibition hall, orchestra rehearsal room, multi-purpose rehearsal room, dance studio, green room, etc within the area of the complex.

The main building comprises an area of 11,920 m², in 5 stories and the Museum includes 5 exhibition rooms in an area of 4,000 m² approximately. This is, in fact, the largest audiovisual space in Macao currently built. The Museum also features a conference room and a multimedia library, with other facilities at the Cultural Centre are cafeteria, a bar, box office and information desk.
The Cultural Centre the ideal venue to hold international business conferences because Macau is benefits from efficient mean of access by sea, land and air.
This 2-storey and 1,114-seat theatre, in a classical style with sophisticated equipment, is ideal for a wide range of performances including symphony concerts, chamber music, opera, dance, variety shows, drama and conventions.
The Small Auditorium, with a capacity of 393 seats, is the perfect theatre for holding small cast plays, contemporary dances, cinemas and seminars. With a full cinema screen, this Auditorium is fitted with surround sound for movies and other projections.
The Conference room is equipped with simultaneous transmission network. It is also a multi-purpose venue which can accommodate up to 200 people in theatre style for seminars or 100 people sit-down dinner. The area has a flexible spiral layout with movable partition walls which allow the area to be sub-divided into three smaller functional rooms.
The Orchestra Rehearsal Room is of a sound-proof construction with a ceiling rises to 9m. It is an ideal place used by performers for concert rehearsals.
This multi-purpose Rehearsal Room which lined with sprung floors, furnished with mirrors, barre and sound-proof equipped, is suitable for dance and music rehearsals, lectures, demonstrations and product launches.
This music studio is an ideal and spacious area for performers to conduct their rehearsals.
Furnished with mirrors and barre, the studio is used for dance rehearsals, lectures and demonstrations.
With capacity for up to 50 guests for any types of functions inside this VIP room. It may also be used as a temporary exhibition room. Besides the VIP room, there is a corridor for private access leading to the Grand Auditorium.
A spacious area where exhibitions and buffets may be held in this foyer.
A wide variety of performances can be held in the Cultural Centre Square, which includes out-door activities, private and social groups hosting open air functions.